5 learnings from science communication during Covid-19
If you missed being a part of 'Communicating science in a crisis' – our curated Indo-Swiss panel discussion on the impact of Covid-19 on science communication held on March 24th, 2021, here are 5 key learnings that can come in handy with your scientific communication practice!
1. Fact-based communication
'Clear and fact-based communication creates trust, because facts are linked to what people perceive as the truth. Without trust, we cannot have relations between countries and societies. The bond of trust between politicians, scientists and the society is essential to manage this Covid-19 crisis as well as possible.' stated H.E Ambassador Dr. Ralf Heckner, Embassy of Switzerland to India and Bhutan, joining in from New Delhi for the opening remarks.
2. Role of the media
'The media plays a very important role in science communication, but in India what is not much talked about is the significant role played by Asha workers and Anganwadi workers who were at the grassroot level, convincing people about maintaining hygiene to social distancing to wearing masks. The media alone is not always sufficient, we need people at the ground level, whom communities trust to get information they need.' added Dr. Shailesh Nayak, Director, National Institute of Advanced Studies (NIAS), Bangalore, also the Indian institutional partner for this global project with the swissnex network while jumping in to moderate the panel discussion.
'The past one year has given a good insight into how the scientific process itself works. So with that bit of additional content, science writing has become much more nuanced. A lesson that we learnt as time passed by is to narrow our sources. Even with pre-prints, we narrowed down the sources that we talked to, the voices that we trust' said panelist Sandhya Ramesh, Senior Editor – Science, ThePrint, Bengaluru, putting the spotlight on the responsibility of credible reporting.
3. Language and multilingualism
Dr. Gagandeep Kang, Professor of Microbiology, Wellcome Trust Research Laboratory, Department of Gastrointestinal Sciences, Christian Medical College, Vellore, highlighted the need for vernacular languages in scientific communication. 'If we are to think about scientists communicating clear credible information from trusted sources, then one thing we have not done well is use the local print media as well as forms of social media to reach out to people who don't necessarily speak English. We have a very vigorous and active debate in the English media. We have a lot of sources of information available to people – both global and local sources. But when it comes to the many languages spoken in our country, the quantity and quality of information become much more restricted.'
4. Simplifying science
Tuning in from Mumbai, Dr. Sandhya Koushika, Professor, Department of Biological Sciences – Tata Institute of Fundamental Research, described the gaps that can be filled between scientists and science communicators themselves. 'The scientist has to effectively communicate what is known and how much, how much you don't know and how well it is known. Science communicators and especially journalists want a simplification, which is very hard for a scientist to give. So that is a process that you need to learn and a process that needs to be established from the beginning.'
5. Scientists speaking out
'We need to motivate scientists to speak up, we need to actually reward them and valourize them if they do. We need to train them and have them listen to what is needed to be spoken as a scientist. We need science-society and science-policy interfaces that are structurally secure and exist over time, and organisations that can continue to support these exchanges.' concluded Dr. Mike Schäfer, Professor of Science Communication & Co-Director of IKMZ – Dept. of Communication & Media Research at the University of Zurich, Switzerland.
Check out the complete recording of the session here.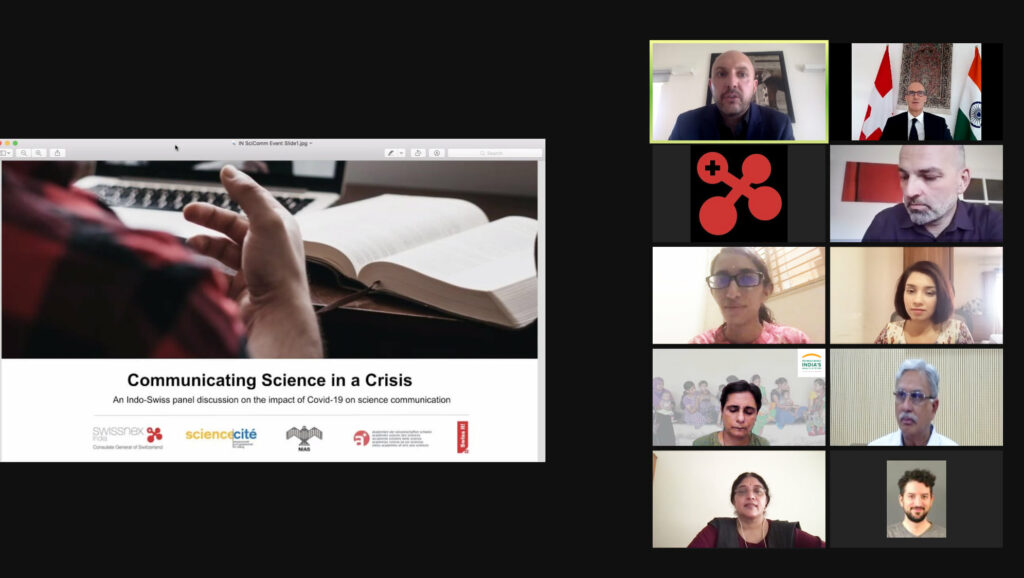 Cover image credits: Unsplash/ Compare Fibre